Three Minutes to Start Your Holiday
Try This - Nov 22, 2021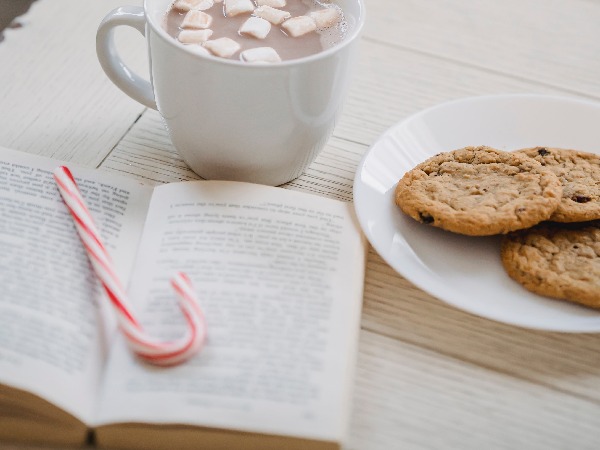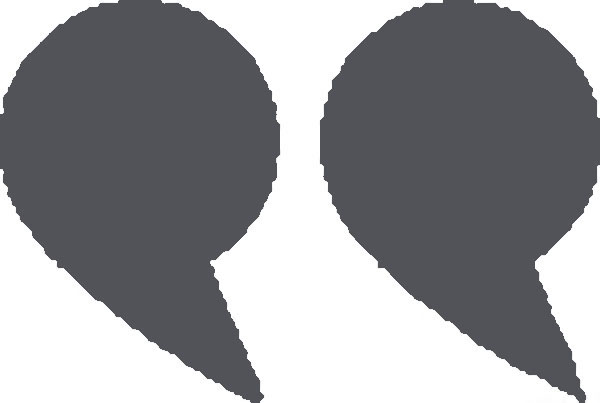 Write a story about an exchange of gifts. Feel free to think outside the shiny, wrapped box; for example, gifts could mean time or love. — Holiday Anthology contest prompt
Do you find yourself perseverating over a story prompt, unsure how to proceed? Well, I have a great way to generate story ideas, stress-free, in three minutes. But first, a little...backstory.
Instead of sparking ideas, sometimes creative writing prompts do just the opposite; they make your mind go blank. No matter how many times you reread them, you can't quite jumpstart your imagination.
A prompt is a point of departure, and there are so many possible places to go, so many routes to take, that it can feel overwhelming.
Complicating matters more, story prompts are a unique beast because they are generated by someone else. Many writers struggle to internalize prompts, translate them into their language of thought and make them their own.
There is a way, however, to cut through that initial brain freeze. If you're having difficulty starting your entry for our Holiday Anthology contest - or any of our short story contests in the future - take a deep breath and try this approach.
Simplify storytelling with our Story Wheel
Many writers make the mistake of biting off more than they can chew, trying to imagine a story and writing it all at once, from beginning to end. I've done this myself. The simple fact is that the creative process isn't linear, and once we dispense with that notion, writing becomes much simpler - or at least, more straightforward! In the early stages, it is best to break the process down into manageable bits and focus on one element at a time.
You probably already know that almost every great story contains the same five basic elements: character, world, plot, conflict and theme. For all my visual learners out there, we have colorfully depicted these elements in our Story Wheel (And throughout our site, for that matter!).
​
​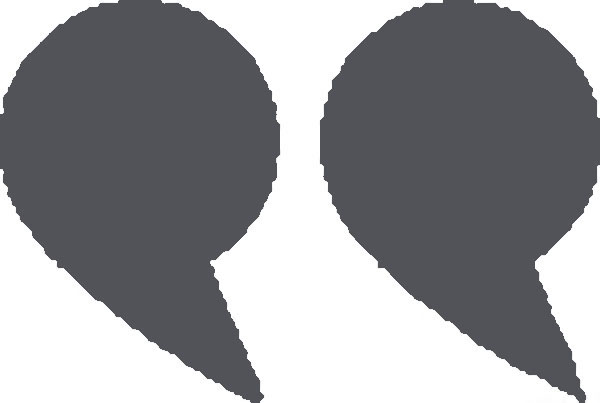 ​
At the center of the Bardsy Method is the Story Wheel, which represents five key elements of story, and how they come together to form a satisfying whole. ​
​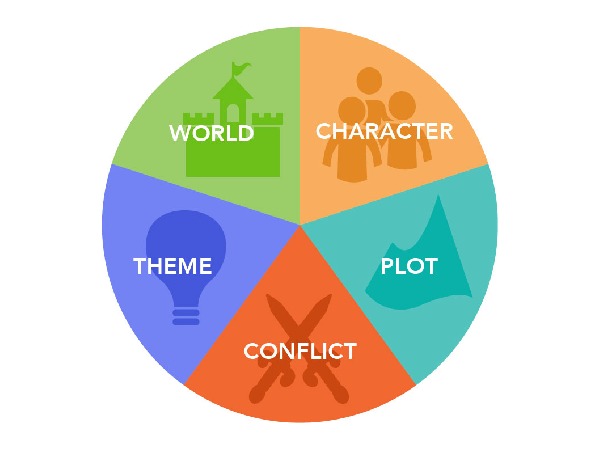 ​
The Story Wheel offers a glimpse of the big picture, how everything fits together, but it also demonstrates the distinct nature of each wedge. This means we don't have to break a sweat trying to juggle all five balls (or wedges) at once. Instead, we can focus first on whichever one we find most compelling. Some might think of this as the "easy part". That's fine. In fact, that is perfect.
Keeping this in mind, storytelling becomes as simple as 1, 2, 3. (Okay, 4, 5.) So, let's talk about the first step of turning a prompt into a story.
How to start a prompt-based story
Now, when I say "start," it's worth repeating that I'm not talking about writing the first page, or even the first sentence. Like all great inventions (and gifts!), a story starts with a single idea. Let's do that with the help of the Story Wheel.
Before you put pen to paper, "live with" the prompt. Here's where the three minutes come in. Close your eyes, and embrace a meditative mindset. Forget linear; simply pay attention to any images or sensations that come to mind, naturally.
Maybe you think of your grandfather, who used to craft handmade toys for you when you were a child, or Mele Kalikimaka in Hawaii with light-festooned palm trees. Perhaps you remember the feel of crisp wrapping in your eager hands, or how a cup of steaming hot chocolate loaded with melty mini-marshmallows tickled your nose and your taste buds, too. The idea can be anything: a memory, a fantasy, or anything in between.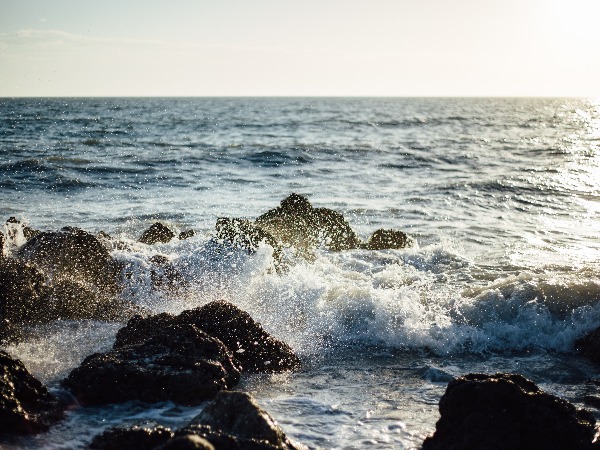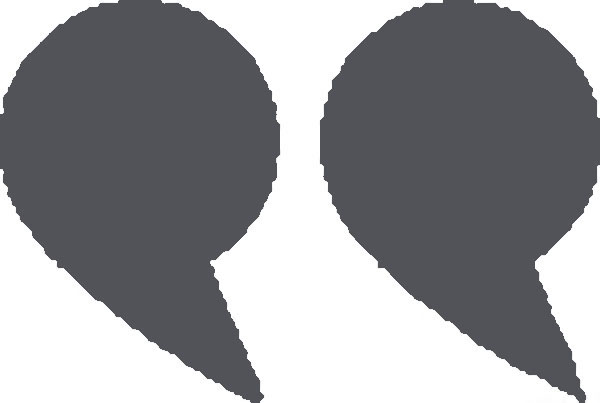 Sit in reverie and watch the changing color of the waves that break upon the idle seashore of the mind.
— Henry Wadsworth Longfellow
Hold on to whatever pops into your mind, for a few moments. We're often too quick to dismiss ideas without actually considering them, or rush to make a complete story out of one in a matter of seconds. Stay with the thought, envisioning another detail, and then another, wholly immersing yourself in it.
At their best, creative brainstorms are about noticing (and appreciating) memories, thoughts and fantasies usually delegated to our unconscious minds. Keep pulling that thread and you will arrive at your first narrative element in no time. Sometimes, we have to let go of the clutter and expectations, in order to re-discover something important. This is especially so in creative endeavors.
From there, it's just a matter of teasing out the rest of your story elements, and putting them together (which I cover in my
Writing Warmup course
). Now that you've taken that first leap and your mental wheels have begun turning, the route to completing your story is clear.
Want to stretch those prompt-responsive muscles before diving into your contest entry? I have a fun idea for you, below.
Try this: Play a game of "Two Truths and a Lie" at the Thanksgiving table this year. Everyone takes turn coming up with two truths and one giant whopper, and their table mates must guess which is which. They should all have the same level of plausibility, so access some interesting memories, and one equally interesting fabrication. Any one of them might be a great idea for a story!
For example:
1. The Case of the Crippled Dog
I once saw a badly limping dog drag itself into El Santuario de Chimayó in New Mexico - a church known for its healing powers - and run out without a care a few minutes later.
2. The Pop Star and the Politician
I once randomly bumped into Bono and Prime Minister Tony Blair on a Monterey Bay beach and we talked about the weather as they pet my dog.
3. Falling Into a Tree!
I once zip-lined through the El Yunque foothills of Costa Rica and the line snapped, depositing me in the top of an elephant ear tree, which broke my fall.
Fun, right?! Which is the lie? Email us!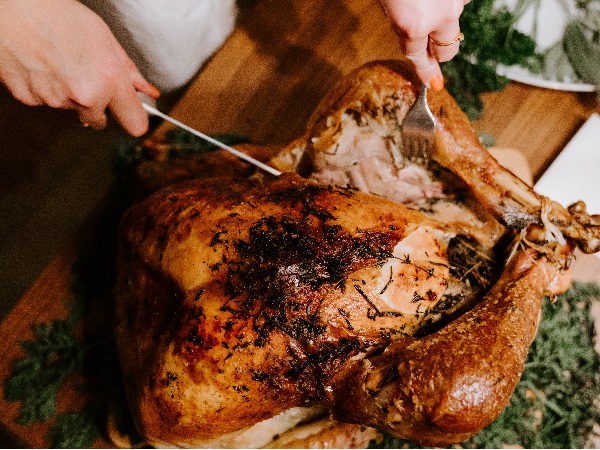 CLICK A TAB TO USE WILL.POWER
TO DO LIST:
Add tasks to your sortable list, then revel in checking them off.
SCRATCHPAD:
Cache your gems as the fall in this always accessible place.
PRIVATE JOURNAL:
Reflect on your process — good, bad and ugly — in your dated diary.
TRACKING:
Measure your progress with key writing metrics, automatically,
I'm here, if you have questions.
Hi!
Please enter your question, then click SEND ...